TRIP ESSENTIALS
Cost- Rs 43,500 per person
This price is for the group of 4 participants in one CAR (if less than 4 then prices will increase)
Single supplement : Rs 12,500 Extra ( for single room on whole tour) + Tour Cost
Tour Date - 06 August - 15 August 2021
Category 1 - 01 INNOVA Crysta ( for comfort and space) for 4 people
Above 4 people – TEMPO TRAVELER
1.Transportation
2. Innova Taxi or tempo Traveler.
3. Breakfast and Dinner.
4. One cocktail from our company side.
5. Accommodation double sharing room. ( hotels & Homestays, guesthouses)
6. Photo guide or Tour leader.
Booking amount – 50 % in advance
TOUR HIGHLIGHTS
Drive through the amazing landscape covered with snow and high mountains.
Explore the highest lakes of Spiti valley (Chandratal lake)
Capturing the great landscapes of Indian Himalayas.
Exploring the ancient monasteries & Spiti culture throughout the journey.
Visiting the nomadic life of high plateaus and connecting with local people to understand more their culture.
Photographing the Night and star gazing, Astro moment of high Himalayas.
Proper Covid rules and instructions throughout the Journey for safe travel.
Mentor advices and help throughout the journey for better understating the aspects of Photography and visualization.
NOTE: This tour is open to all (Photographers and NON photographers)
We believe in travel, explore and connecting to other travel enthusiast Travelers. So, everyone is welcome on board.
Spiti Tour advice: Spiti is High altitude & chilling weather condition during summers also. So, we advise you to take proper winter gears and clothes for this Tour, temp could drop down at night especially, With Proper gears we could be able to enjoy & explore the beautiful Ladakh. We send the list of items to carry for this trip once we get the booking amount from you.
(This tour is not for those who are fragile to high Altitudes and any Asthma problems.)
Terms & conditions:

No refund will be made to any participant if he is unable to complete the tour in case of any health issue or abandoning in the middle. (Extra charges for car or other arrangements.)
In case there is no flight to Leh or delayed and you cancel the trip on the day of the tour starts, there will be only 30% refund (apply only in-flight cases). Certain things are beyond our control and we are not responsible for that.
If there is trip cancelation from our side (Emergency or Covid issue), 100% refund will be initiated or adjusted for the future trips with our company.
Itinerary is subject to change in case of any road blockage or bad weather. We try to alternate with the other options on the spot but no money will be refunded for any change due to bad weather or heavy snowfall or any change in itinerary.
If you don't like to share the room with anyone or you have any night problem, we advise you to opt for Single supplement plus the tour cost for more comfortable space and privacy.
If you are not interested in any Photography activity, we advise you to have patience and let other enjoy or click, you can wait in car or in hotel (whatever is possible on the moment).
If you are not interested in Night Photography or star gazing, we advise you to stay back in Hotel. We don't rush for night Photography, if you join then please respect until all we finished the.
Every Participant has to sign the Covid Undertaking form and Consent form before the trip. Once you book the trip, we send both the forms.
Detailed Itinerary
Day 1: Delhi to Manali via Volvo bus.
We all report at bus stand just 45minutes before the Bus journey, for an overnight journey to manali. ( Dinner not included)
Day2: Arrive Manali (1950m) & visit Sethan village
On Arrival pick up from bus stand and transfer to the Hotel. Rest till afternoon and after a short brief in the noon , we will walk around old Manali town and forest area and lunch in the old heart of old Manali,
In the evening one-hour drive will take you to Sethan village for sunset photography. We return back to the hotel and Dinner at hotel.
(Night Photography possibilities if weather allows. We drive 30 minutes far from city to capture the milky way and some stargazing form the viewpoint)
Day 3: Manali – Kaza (201 km/ 8-9 hrs)
Today we start early in the morning. We drive on newly opened Atal Tunnel & cross one of the high-altitude pass, "The Kunzum Pass" (4590 meters) to reach Lossar. It's good road until we reach Gramphu but once we take the road to Spiti its all off-road, we drive along the bank of River Chandra on whose name the valley got its name "Chandra Valley". We cross the check-post at Lossar & drive along till we reach Kaza, "sub-divisional headquarters of the remote Spiti Valley".
we arrive in the evening have our night at kaza at hotel.
Night Photography Possibility (depends on weather or time we arrive)
Day 4: Kaza: Visit Langza (4400m), Hikkim (4400m), Komic (4570m)
After breakfast we start visiting highest villages of spiti starting with Hikkim, Komic & Langza. We drive Towards the best pasrt of the valley and one of my favorites as well.
Hikkim village has the highest post office in the world from where you can send the postcard to your loved ones anywhere in the world.
Komic village is the highest village in the altitude. Visit the monastery and the surrounding before heading to Langza where we're going to spend the night.
Finally we arrive at our destination LAGZA village, the most beautiful village of the valley, guarded By the big statue of LORD BUDDHA supervising the whole valley.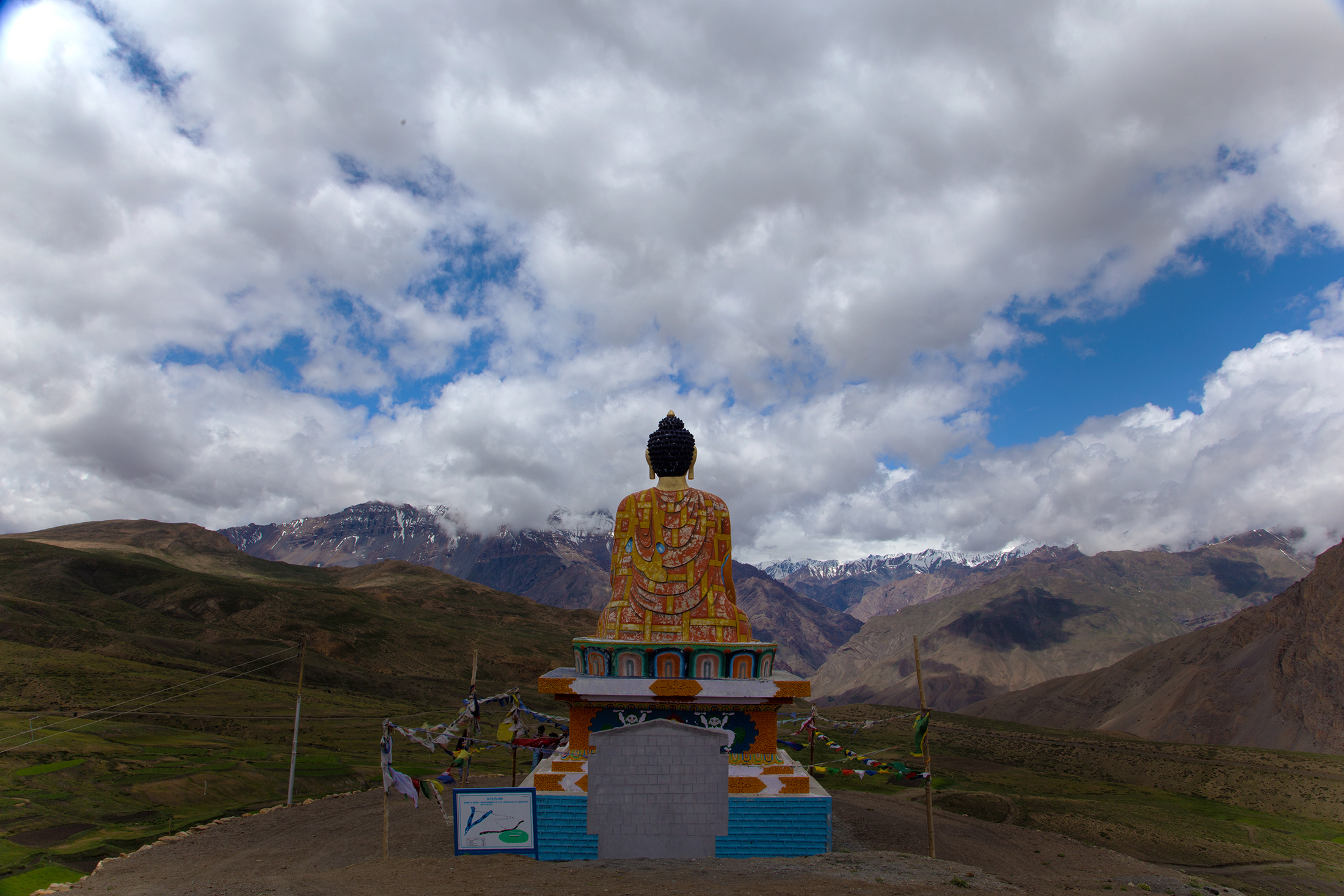 Night stay at home Stay (Night Photography and stargazing)
Day 5: Langza to Pin Valley , Via Dhankar (3894m)
Today we're going to visit two important monasteries in spiti. We start with dhankar monastery and drive to reach there. It's one of the oldest monasteries in the word. A Dhankar Monastery which is carved in a mountain with a magnificent valley view.
After we driver and enter into the Himalayan national park valley, PIN VALLEY. One of the most beautiful drive and colorful and amazing place to spend a night with beautiful landscapes. Pin valley is declared as protected land for flora and fauna. Overnight in Pin valley (night in guest houses)
Night Photography & Stargazing possibility around the valley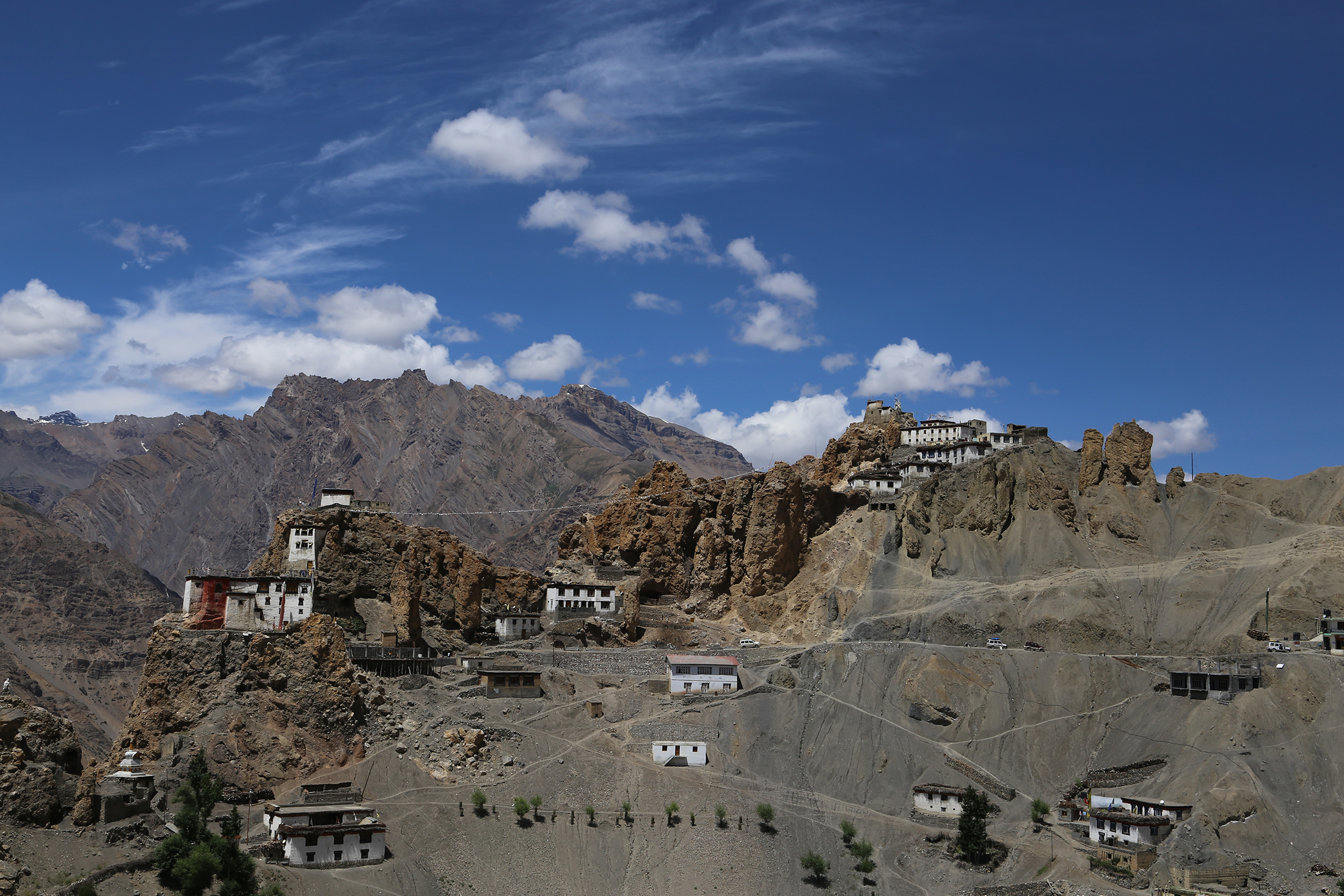 Day 6: Pin valley to Kibber 20km, 1hrs
It's an easy day today, get up easy in the morning. After breakfast we drive to kibber village and visit the main attraction spiti valley which is key monastery. After visiting the monastery drive further to kibber village and spend the time at leisure exploring the village. Sunset from The kibber village is the most interesting thing to see. Overnight in a Guesthouse in Kibber.
NIGHT PHOTOGRAPHY & STARGAZING AROUND KIBBER AND AREAS..
Day 7:Kibber to chandertal 100km, 5 hrs
After breakfast we drive towards Chandartal. Enroute we visit Chichim bridge which has its own charm and was constructed to connect kibber with chichim. We drive further through the new road with a magnificent landscape view of gorge and mountains of spiti until we reach losar village. Stop for refreshment and drive further till we reach Kunzum pass (4550m) and then a diversion to Chandartal lake.
Night Photography and Stargazing in the area.
Night in the tents/ Camps.
(Please note: camping in Chandratal depends on FIXED CAMPS by Govt approved, if not fixed camps, then remote camping is on extra chargeable basis (Rs 3500 per person) for the team come from Manali especially for one night camping. (includes tents and food and cocktail)
Day 8: Chandartal- Manali over Rohtang Pass (110km/7-8hr)
Today is our last ride and we'll drive all the way back on the road we came till we reach Gramphu and drive further to Rohtang pass and Manali. You'll get enough time to stop and take pictures at each scenic point. We reach Manali late in the noon or evening. Night in the hotel at Manali.
Day 9: Departure for Delhi ( Night BUS)
After the breakfast, It's a free day. In the afternoon and Farwell lunch and departure to the BUS stand for the night Bus (Dinner not included). We say good bye and happy safe journey to Delhi.
For booking, please email or call – info@nakulphotography.com or 9910027300

Website- www.nakulphotography.com

INCLUDES- food on MAP basis (breakfast and dinner)

. Travel, Taxi (Innova crysta)

. one Photo mentors

. Transfer from airport to hotel and Hotel to airport.

. Accommodation (guest houses and homestays) on twin sharing or double sharing or homestay rooms.

. Photography tips and Knowledge.

. Best sites to Photography and landscapes Exploration.

. Small treks and hiking also (optional)

. Night photography – Astro photography knowledge

. oxygen cylinder for safety

EXCLUSIONS:

• Transfer or Flight to Leh (ladakh)
• Lunches
• Any Kind of Personal Expenses such as tips, phone call or Optional Tours / Extra Meals Ordered.
• anything not mentioned in the package includes.
• Personal, Travel and medical insurance.
• Any Camera fee or Entrances fee to monuments and places
• all items of personal nature.
• Participants are responsible for their Camera and Equipment's
• Additional costs due to roadblocks etc.

Refund Policy:­

30% of the fee will be Charged if you cancel 60-45 days before the tour starts.
50% of the fee will be Charged if you cancel 45-30 days before the tour starts.
70% of the fee will be charged if you cancel 30-15 days or less before the tour starts.
100% of the fee will be charged if you cancel 15 -0 days before the tour starts.

(in case of Covid with positive rest report submission), 90% refund will be made if it's requested 05 days before the tour starts.) or Adjusted in future trips.

NB: The date on which we receive the written request from you expressing your desire to cancel your participation will be the date that is used to calculate the cancellation charges.

MENTOR - Nakul Sharma (TRAVELER and PHOTOGRAPHER)

Nakul sharma is professional tour leader and photographer based in Delhi. He has been traveling since 2009 and traveled to 40 countries for his landscape photography passion.Ladakh is his favourite destination in India. He has been to LADAKH many times and explored the whole valley and knows it by heart. His work and Photo is known everywhere and selected by some of the highly reputed organization like National geographic, lonely planet INDIA, IMS (International mountain submit), CBRE YOUNG PHOTOGRAPHER OF THE YEAR, 2016, CAMARENA photographer of the Month, INDIA PHOTOGRAPHY AWARD and ROYAL ENFIELDS etc.. He has done several successful Photography assignments to Ladakh for many brands Like Motorcycleexpeditions, Toyota USA. Etc….