TRIP ESSENTIALS
Cost- Rs 48700 per person (double sharing basis)
Single supplement – Rs 6500 Extra (single room)
This price is for the group of 4 participants + 1 tour leader

Category – PHOTO & ADVENTURE TOUR
Month of travel – (02 - 09 march & 13 - 20 march'2021)
COVID RT PCR TEST (negative) is mandatory for this trip at least 72hrs before entering LADAKH.
01 INNOVA CARS ( for comfort and space)
1. Transportation
2. 01 Innova Taxi.
3. Breakfast and Dinner
4. inner lines permit
5. Airport transfers
6. Accommodation double sharing room. ( central heated rooms in Leh)
7. Mentor Nakul ( Photography advices & reviews )
Booking amount – 50 % in advance
TOUR HIGHLIGHTS
Drive through the amazing landscape covered with snow and high mountains.
Explore the frozen world & frozen lakes of Ladakh (Pangong and Tsomoriri)
Capturing the great landscapes of Indian Himalayas and winter land.
Exploring the ancient monasteries & Ladahki culture throughout the journey.
Visiting the nomadic life of high plateaus and connecting with local people to understand more their culture.
Photographing the life that exist in extreme winter conditions and nomadic people.
Mentor advices and help throughout the journey for better understating the aspects of Photography and visualization.
NOTE: This tour is open to all (Photographers and NON photographers)
We believe in travel, explore and connecting to other travel enthusiast Travelers. So, everyone is welcome on board.
Winter Tour advice: Ladakh is High altitude & extreme weather condition during winters. So, we advise you to take proper winter gears and clothes for this Tour, temp could me – 15 to -25C. With Proper gears we could be able to enjoy & explore the beautiful winter land. We send the list of items to carry for this trip once we get the booking amount from you.
(This tour is not for those who are fragile to Cold weather & high Altitudes).
Important Note:
No refund will be made to any participant if he is unable to complete the tour in case of any health issue or abandoning in the middle. (Extra charges for car or other arrangements.)
In case there is no flight to Leh or delayed due to heavy snowfall, there will be only 50% refund. Certain things are beyond our control and we are not responsible for that.
Itinerary is subject to change in case of any road blockage or heavy snowfall. We try to alternate with the other options on the spot but no money will be refunded for any change due to bad weather or heavy snowfall or any change in itinerary.
If you don't like to share the room with anyone or you have any night problem, we advise you to opt for Single supplement plus the tour cost for more comfortable space and privacy.
If you are not interested in any Photography activity, we advise you to have patience and let other enjoy or click, you can wait in car or in hotel (whatever is possible on the moment)
Detailed Itinerary
Day 01- Arrival Leh KushokBakula Airport.
This must be one of the Most Sensational Flights in the World. On a clear day from one side of the aircraft can be seen in the distance the peaks of K2, Nanga Parbat, Gasherbrum and on the other side of the aircraft, so close that you feel you could reach out and touch it, is the Nun Kun massif.) Upon arrival you will met by our representative and transfer to Hotel for Check in. Complete day for rest and leisure to acclimatize followed by Welcome tea or Coffee at the Hotel. Afternoon we walk around the local market and Sunset at Shanti Stupak back to hotel. We shoot the city and Sunset from the Area
Day 02 - LEH-ALCHI- LIKIR-LAMAYURU-LEH
After breakfast, we drive to Leh Sangam "the Dramatic confluence of ZANSKAR & INDUS RIVER", it's the must watch beauty in Ladakh and completely frozen in winter times. After we headed towards the most beautiful monastery of Ladakh "ALCHI" we explore the Buddhist side of this winter land and try to shoot some Monks (if possible). Our next stop would be LIKIR monastery, the ancient Gompa stand still on the hill of Indian Himalayas and make it more interesting for the viewers, the view from the top of the Monastery is breathtaking, we try to get some dramatic shots from the above, then continue to Lamayuru monastery and Moon Land. Shooting sunset over the monastery and watching the beautiful scenery. Then back to Leh same day. Overnight at LEH.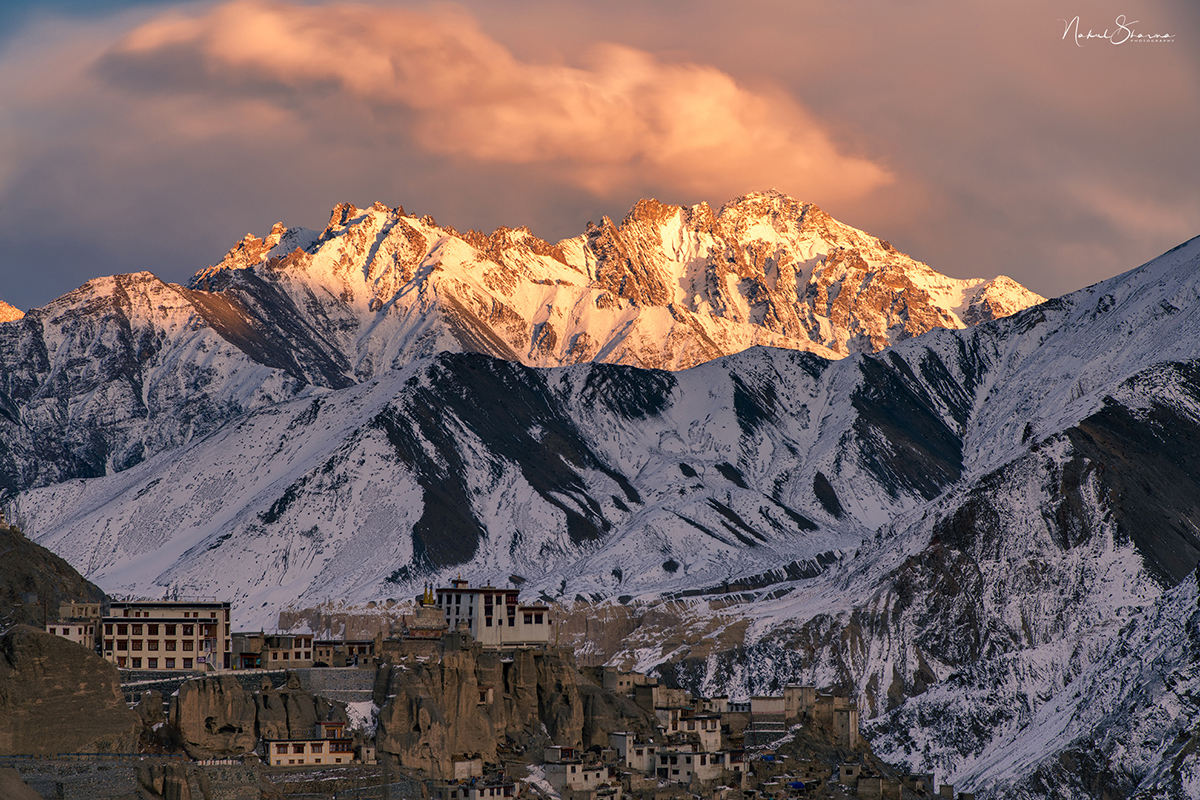 DAYS 3 - LEH–NUBRA VALLEY VIA KHARDUNG LA 18,390 FT. (120 KMS / 4 – 5 HRS)
Morning after the breakfast we drive to Nubra Valley. The distance from Leh to Nubra Valley passes over Khardung La (The Highest Motorable Road in the World) at 5,602 Mtrs / 18,380 Fts, We stop at Khardung la to shoot for the group photo and Sunset at Nubra valley, it's one of the most famous valleys in Ladakh for its sand dunes and Camels with two humps (if camels are available). Night time Astro Photography possibilities in the AREA. Night at NUBRA (Guest house or Home stay)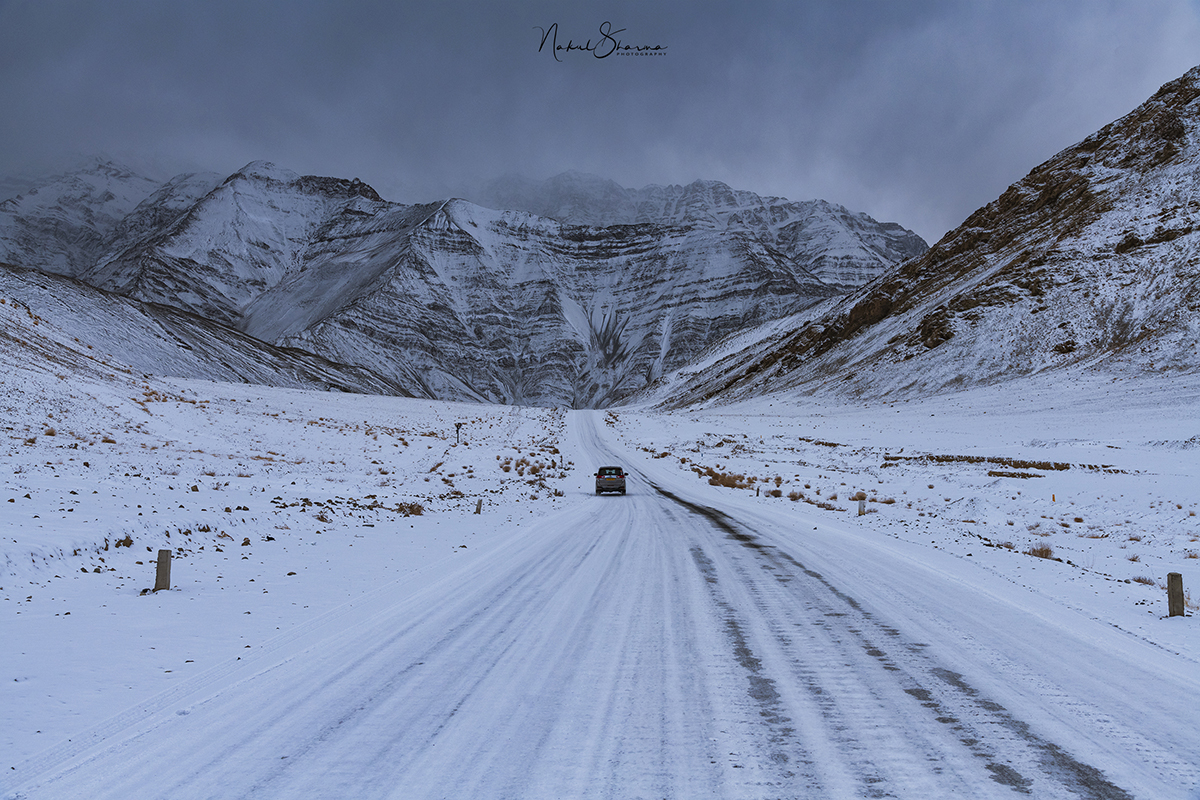 Day 04 – NUBRA – PANGONG VIA SHAYOK
After breakfast visit Disket Monastery and Chamba statue in the morning. Long drive to Pangong Lake via shayok 145 kms 5-6 hours' drive. Enjoy the beautiful sunset at the world famous lake. The Lake will be frozen in Feb-March, even you can walk on the frozen lake. The weather at Pangong will be colder than Leh and Nubra Valley, Temperature goes down from -15 to -20 in the night. Long exposure Photography and We try Night Photography if ( weather is clear).
Dinner and overnight at a homestay in Pangong/Tangtse.
DAY 05: PANGONG – TSOMORIRI VIA CHUSHUL
We start Early morning and try to capture the first light and enjoy the scintillating early sunrise at the Pangong lake. After breakfast long drive to Tsomoriri Lake via border village Chushul, it takes around 7-8 hours' drive from Pangong to Tsomoriri lake. we enjoy this beautiful drive with stops on the way get the beautiful scenery and photos. We arrive late afternoon and check in our (guest house) and hoe tea served at arrival and sunset we explore the lake area. It's mostly frozen in winter time we try some composition and capture the best of it. (it's the coldest place in Ladakh so proper gears would be recommended) Dinner and overnight stay at a Guest house in Tsomoriri.
Day 06 - TSOMORIRI LAKE AREA EXPLORATION (CHANGTHAN VALLEY)
Early Morning, wake up and back to lake and try to shoot some extra composition on Tsomoriri lake, after the breakfast and relax, we will drive to nearby area and try to capture some nomadic life, Changthang area is famous for Nomadic people who lives in the extreme conditions of Ladakh with their herds of sheep. It's so surprising to see the life that exist in Icey cold mountains. We spend the sunset in the area and try to capture the Nomadic life with some sunset colors. After we drive back to our guest house. Night Photography possibility If weather allows.
Overnight in-Home stay or guest house.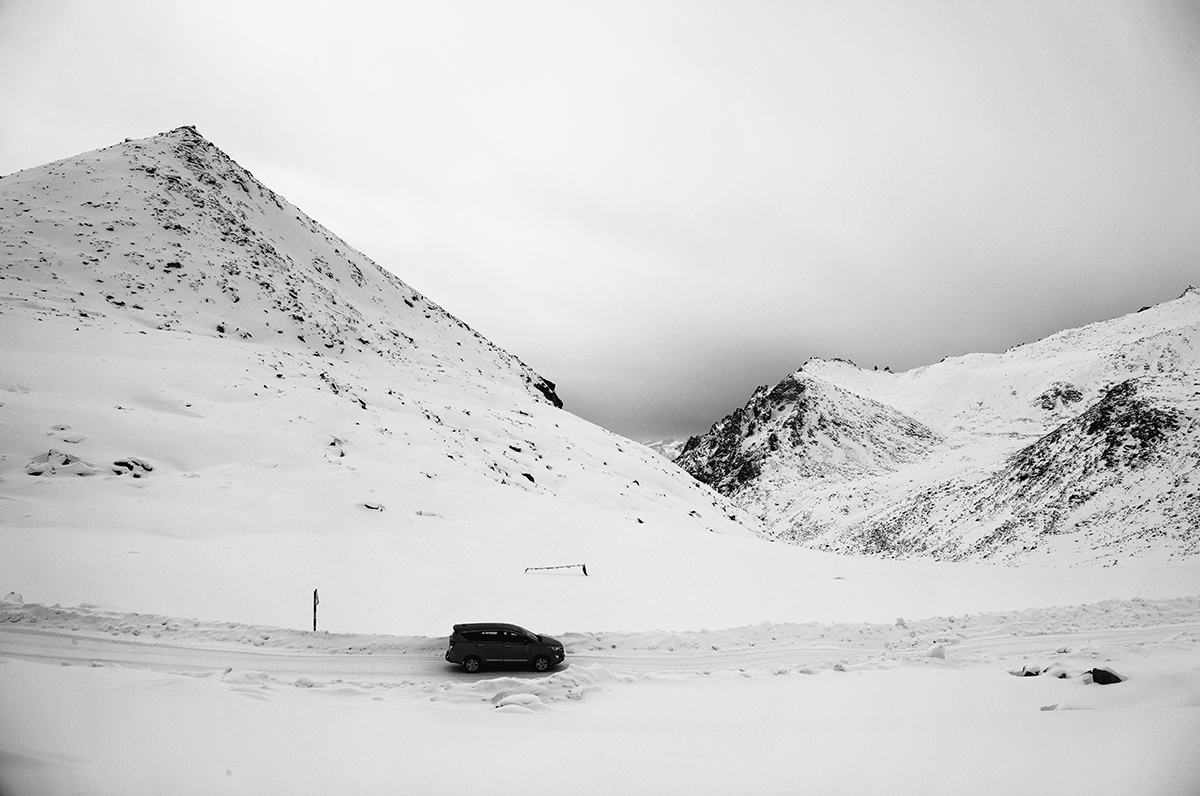 Day 07: TSOMORIRI – LEH VIA CHUMATHANG
After breakfast drive back to leh via Chumathang, you can stop at the Chumathang hot spring. It's so It takes around 6-7 hours' drive to reach Leh. Dinner and overnight stay at a hotel in Leh.
Day 08: DEPARTURE FLY TO DELHI
Early morning check out from the hotel Airport transfer, Departure and back to Delhi. Or We offer one night extra at Leh, Free day for leisure & shopping and Some extra time again at Shanti Stupa for last Photo shoot over the city. (OPTIONAL) (Extra charges for one night & half day taxi = Rs 4750 per person (dinner & breakfast included)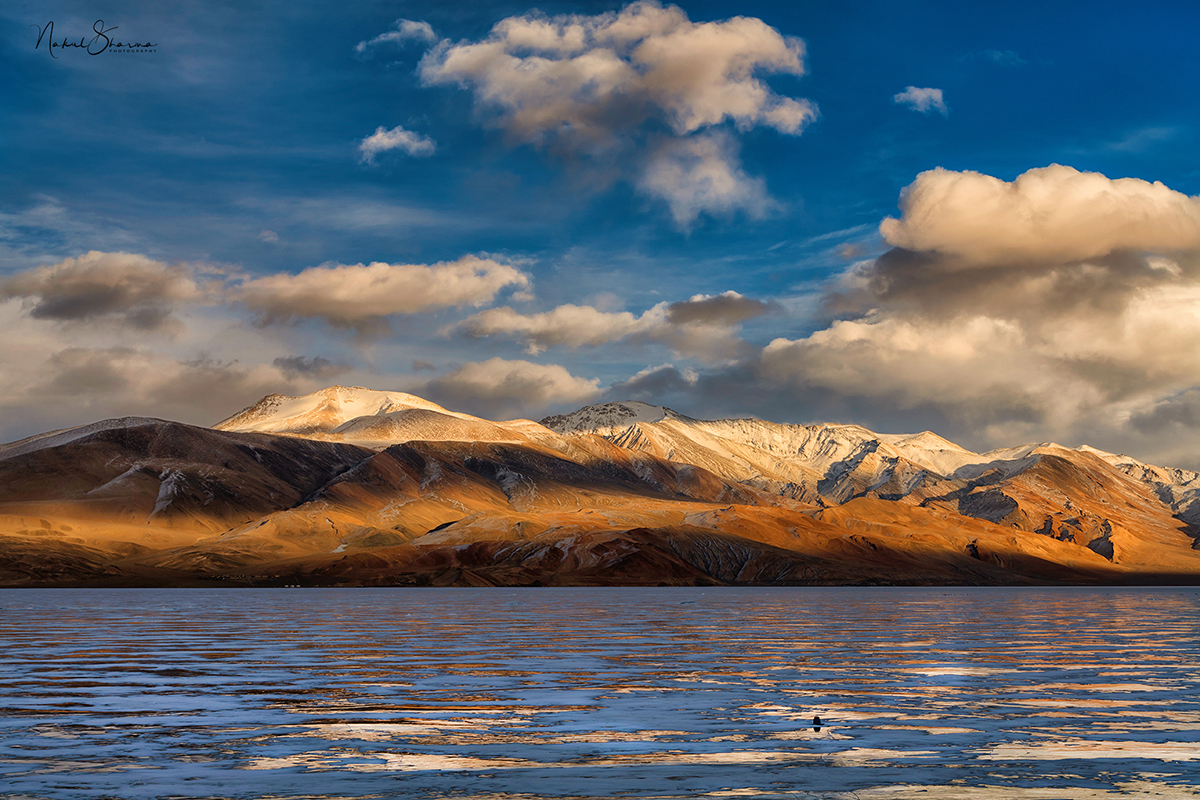 Day 9: Departure & Transfer to airport (for those who choose 8th day extra Night at Leh)
INCLUDES
• food on MAP basis (breakfast and dinner)
• Travel, Taxi ( Zylo car or Tempo travel )
• one Photo mentors
• Transfer from airport to hotel and Hotel to airport.
• Accommodation (guest houses and homestays) on twin sharing or double or homestay rooms.
• Photography tips and Knowledge.
• Best sites to Photography and landscapes Exploration.
• Small treks and hiking also (optional)
• Night photography – Astro photography knowledge
EXCLUSIONS
• Transfer or Flight to Leh (ladakh)
• Lunches
• Any Kind of Personal Expenses such as tips, phone call or Optional Tours / Extra Meals Ordered.
• anything not mentioned in the package includes.
• Personal, Travel and medical insurance.
• Any Camera fee or Entrances fee to monuments and places.
• all items of personal nature.
• Participants are responsible for their Camera and Equipment's.
• Additional costs due to roadblocks etc.
• Some things are beyond our control e.g., weather etc. and we will not be held liable for changes to locations, itineraries, accommodation or schedules due to bad weather, road closures, breakdowns or other unforeseen circumstances. Refund Policy:
30% of the fee will be Charged if you cancel 90-61 days before the tour starts.
50% of the fee will be Charged if you cancel 60-31 days before the tour starts.
100% of the fee will be charged if you cancel 30 days or less before the tour starts.
NB: The date on which we receive the written request from you expressing your desire to cancel your participation will be the date that is used to calculate the cancellation charges.