TRIP ESSENTIALS
Tour Type: PHOTO, ADVENTURE, CULTURE
Total Duration: 11 days, 10 nights
Date of Travel: 10- 20 August'2023
Maximum Altitude on the Trip: 3 400 meters ASL
Accommodation: hotel, Guesthouses and Yurts.
Transport: One mini-Tempo
Seats: 08 People Maximum
Meals – All Included (breakfast + lunch + dinner)
Prices – 1950$ Per person (we calculate in INR on actual exchange rate from day of booking) Single supplement – 550 $ (for single room during whole tour).
Booking amount: 50% in advance (with registration form)
(NOTE- every participant must sign the Consent form & undertaking form before the trip date).
TOUR HIGHLIGHTS
Drive through the amazing landscape covered with snow and high mountains.
Explore the Beautiful lakes of Kyrgyzstan (Issyk-Kul & son kul lake)
Staying in most famous and tradition handmade Yurts camps.
Experience the Private EAGLE HUNTERS SHOW, Exclusive for our group.
Driving on the Real silk route and experience the journey.
Horse riding in Song-kul lake and around.
Exploring the ancient Kyrgyzstan culture throughout the journey.
Visiting the nomadic life of high plateaus and connecting with local people to understand more their culture.
Photographing the Night and star gazing, Astro moment of darkest Kyrgyzstan.
Proper Covid rules and instructions throughout the Journey for safe travel.
Mentor advices and help throughout the journey for better understating the aspects of Photography and visualization.
NOTE: This tour is open to all (Photographers and NON photographers)
We believe in travel, explore and connecting to other travel enthusiast Travelers. So,
everyone is welcome on board.
KYRGYZSTAN Tour advice: Kyrgyzstan is High altitude & chilling weather condition
during summers also. So, we advise you to take proper winter gears and clothes for this
Tour, temp could drop down at night especially, With Proper gears we could be able to
enjoy & explore the beautiful Ladakh. We send the list of items to carry for this trip
once we get the booking amount from you.
(This tour is not for those who are fragile to high Altitudes and any Asthma problems.)
Terms & conditions:
No refund will be made to any participant if he is unable to complete the tour in case of any health issue or abandoning in the middle. (Extra charges for car or other arrangements.)
In case there is no flight to Kyrgyzstan or delayed and you cancel the trip on the day of the tour starts, there will be only No refund (apply only in-flight cases). Certain things are beyond our control and we are not responsible for that.
If there is trip cancelation from our side (Emergency or Covid issue), 100 % refund will be initiated or adjusted for the future trips with our company.
Itinerary is subject to change in case of any road blockage or bad weather. We try to alternate with the other options on the spot but no money will be refunded for any change due to bad weather or heavy snowfall or any change in itinerary.
If you don't like to share the room with anyone or you have any night problem, we advise you to opt for Single supplement plus the tour cost for more comfortable space and privacy.
If you are not interested in any Photography activity, we advise you to have patience and let other enjoy or click, you can wait in car or in hotel (whatever is possible on the moment).
If you are not interested in Night Photography or star gazing, we advise you to stay back in Hotel. We don't rush for night Photography, if you join then please respect until all we finished all.
Night photography is not guaranteed, It depends on weather and clear sky, no refund is made if weather is not in our favor. We can't control certain things like weather and natural calamities.
Every Participant has to sign the Covid Undertaking form and Consent form before the trip. Once you book the trip, we send both the forms.
TRIP ITINERARY
Bishkek – Chomkemin– Karakole- Jety-Oguz - Bokonbaevo – Song-Kol lake – Naryn - Kel su- – Bishkek
Kyrgyzstan is an amazing and unique in its beauty country. This small oasis in the Heart of Central Asia impresses with its huge variety of landscapes and a considerable role in it is played by unique Issyk Kul Lake. Often Kyrgyzstan is named "Asian Switzerland", however virgin mountains and richest nature of Kyrgyzstan are far excel in the cleanness of the beaten European Alps. Culture and historical heritage of Kyrgyz people are also very interesting. Until now, the country retains all the attributes of nomadic life. Only in Kyrgyzstan in summer period you will see yurts- nomadic portable dwellings decorated with felt carpets, meet nomads, who will welcome you and probably invite to their yurt to try traditional Kyrgyz drink kymyz. Optionally, you can ride horses and taste delicious national dishes.
DAY 1 ARRIVE AT BISHKEK
Arrival at airport Manas. Meet and transfer to Bishkek. Depending at landing time city tour and Bishkek tour. Dinner. Accommodation at hotel. Lodge - Hotel in Bishkek (upgraded rooms and hotel)
DAY 2- Bishkek – Chon-Kemin. (220kms 3/4hrs)
Morning: After a delicious breakfast and a well-deserved rest, we'll hit the road around 10am and head to our first destination, the incredible Burana Tower. Explore the fascinating museum, climb to the top of the tower for a breathtaking view, and admire the local balbans and petroglyphs.
Next up, we'll take a break and indulge in some delicious local street food, including mouth-watering samsy (picture in the link). But that's just the beginning! We'll then make our way to the stunning Boom Gorge, where we'll enjoy a scrumptious lunch at one of the charming local restaurants. Savor traditional national puff cakes with sour cream and sip on tea boiled in a Russian samovar, boasting a truly unique taste.
But the adventure doesn't stop there! We'll continue driving to the breathtaking Chon Kemin National Park, where we'll capture stunning shots of the natural beauty during a sunset shooting session. Get ready to be mesmerized by the majestic mountains, sparkling rivers, and lush forests.
Finally, we'll spend the night in the cozy guest House, where you can unwind, relax, and soak up the serene surroundings.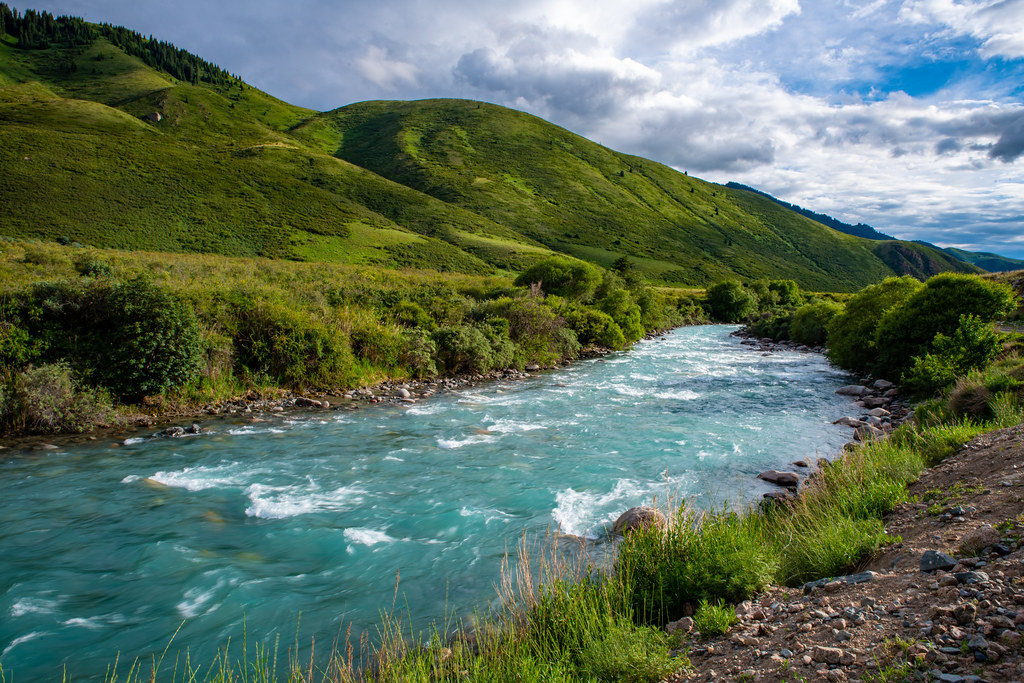 DAY 3- CHON-KEMIN → KARAKOL CITY (350km - 5-6 Hours)
Morning: We will wake up early to capture the stunning sunrise in Chon-Kemin National Park. After the photography session, we'll depart for Cholpon-Ata city, where we'll visit ancient petroglyphs and the Ruh ordo, a spiritual and cultural center.
Next, we'll journey through the breath-taking Grigoriev and Semenov Gorges, two of the most picturesque locations in Issyk Kul lake. This journey is a photographer's dream come true, with its unique natural beauty providing endless opportunities for capturing the perfect shot. It will be a spot for our sunset and night photography.
We spend the sunset in the area before heading towards Karakol.
At the end of the day, we'll check-in hotel for a comfortable and restful night's sleep.
We guarantee that this day will be a highlight of the tour and will leave you with lasting memories of the stunning Kyrgyzstan countryside.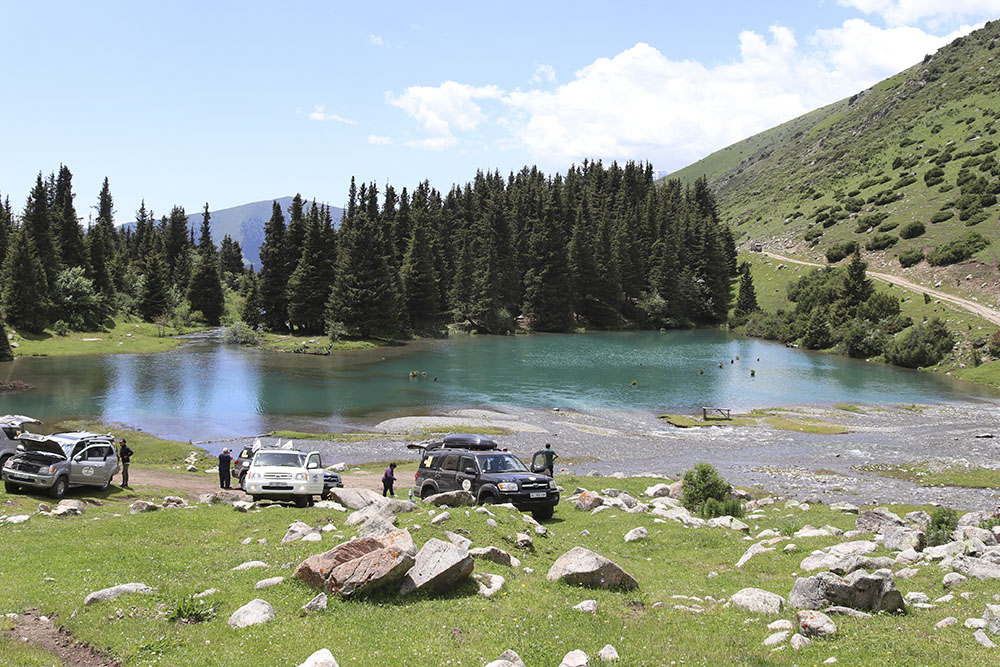 DAY 4- KARAKOL CITY - DJETY OGUZ CANYON – KARAKOL ( 120 kms / 2hrs)
Today is going to be a day filled with hands-on experiences and awe-inspiring sights. We'll start with a bread making workshop where you will learn to make traditional Kyrgyz bread, and the best part is you can capture every moment with your camera. Enjoy the delicious bread we make for breakfast before we set off to explore the city of Karakol. We'll visit the incredible Dungan mosque, built entirely without nails, and the stunning Russian Catholic church.
After lunch, we'll embark on an adventure to Jeti Oguz Valley, a must-see destination in Kyrgyzstan. Here, we'll spend the day taking photos of the beautiful scenery and enjoying a sunset photo session followed by night photography. You won't be able to resist the breath-taking natural beauty of the valley.
As the day winds down, we'll return to our hotel, exhausted but completely satisfied with the incredible experiences of the day.
DAY 5- DJETY OGUZ CANYON - SKAZKA CANYON - BOKONBAEVO VILLAGE
Morning: start very early morning to catch the first light in Skazka canyon, we continue our way along the south shore of Issyk Kul lake.
Afternoon: Close to Tamga village we stop to visit and walk around Skazka canyon. The canyon was named because of its bizarre rocky landscape, which for many years has been transformed by wind into amazing sculptures and formations. The canyon looks scenic with the dark blue Issyk Kul Lake on the background.
Most interesting part of our journey! We will witness eagle hunting ( it's a private show exclusively for our group) and Kyrgyz National Horseback Archery at Bokonbaevo village. ( depends on weather conditions)
Drive towards Shatyly, the panoramic view to Issik-Kul lake
Evening: Sunset shooting in Skazka Canyon & Astro night Photography possibility
DAY 6- BOKONBAEVO VILLAGE → SON KUL ( 350kms/ 7hrs)
Morning: Morning photography at Skazka Canyon. ( optional)
Begins with a breathtaking sunrise on the shore of the Issyk Kul lake - truly the pearl of Kyrgyzstan. After taking in the stunning views, our first stop will be the Orto Tokoi Reservoir, where we'll be able to enjoy the tranquil surroundings and take some amazing photos.
For lunch, we'll be treated to a traditional family-style meal in the picturesque village of Kochkor, before embarking on a scenic drive along the 33 parrots road towards Son Kol.
This drive is not to be missed, as it's one of the most beautiful passes in Kyrgyzstan, with stunning views of the surrounding mountains and valleys. Once we arrive at Son Kol, we'll stay at a local yurt camp and have the opportunity to capture some unforgettable sunset photos of the tranquil lake and rolling hills.
Day 7 Son-Kol
Start your day with a breathtaking sunrise shooting at the crystal-clear Son Kol lake, surrounded by majestic mountains and a pristine natural environment. Savor a delicious breakfast and continue your journey to the other shore of the lake, where you'll stay in a cozy and comfortable yurt camp with stunning views of the surrounding landscape.
Spend the day exploring the area, hiking, or horseback riding to fully immerse yourself in the beauty of the place. Relax and enjoy the serene atmosphere, taking in the sights and sounds of the unspoiled natural surroundings. As the day comes to a close, capture the stunning colors of the sunset with your camera in another incredible photo shooting opportunity. Then, retire for the night to your comfortable yurt camp, filled with warm and hospitable locals.
Day 8 - Son-Kol to Naryn(300 km - 5 hours)
Wake up early to catch another stunning sunrise at the picturesque Son-Kol lake. After breakfast, we will hit the road to Naryn city via the breathtaking Moldo Ashuu Pass, which offers incredible views of the surrounding landscapes.
As we approach Naryn, we will make a stop at a stunning canyon-style place for a sunset photo session. The natural rock formations and colors create a unique and stunning backdrop for our photography session.
We will then arrive at our accommodation for the night, Khan Tengri. This cozy
and comfortable hotel is the perfect place to rest and rejuvenate after a day of exploring and photographing Kyrgyzstan's stunning natural beauty.
Day 9 Naryn to Kel Suu lake(300km - 3-4 hours)
Experience the magic of Kyrgyzstan's Silk Road history on Day 9 of our tour! We'll start our day with a delicious breakfast before heading to the breathtaking Kel Suu Lake. But first, we'll make a stop at the historic Tash Rabat, an important sight on the ancient Silk Road. Our stay at a local yurt camp will give us a unique and authentic experience of the local culture. Finally, we'll arrive at Kel Suu Lake and choose between driving or horseback riding to reach the perfect spot for a stunning sunset photo session. Get ready for a day full of adventure, history, and unforgettable scenery.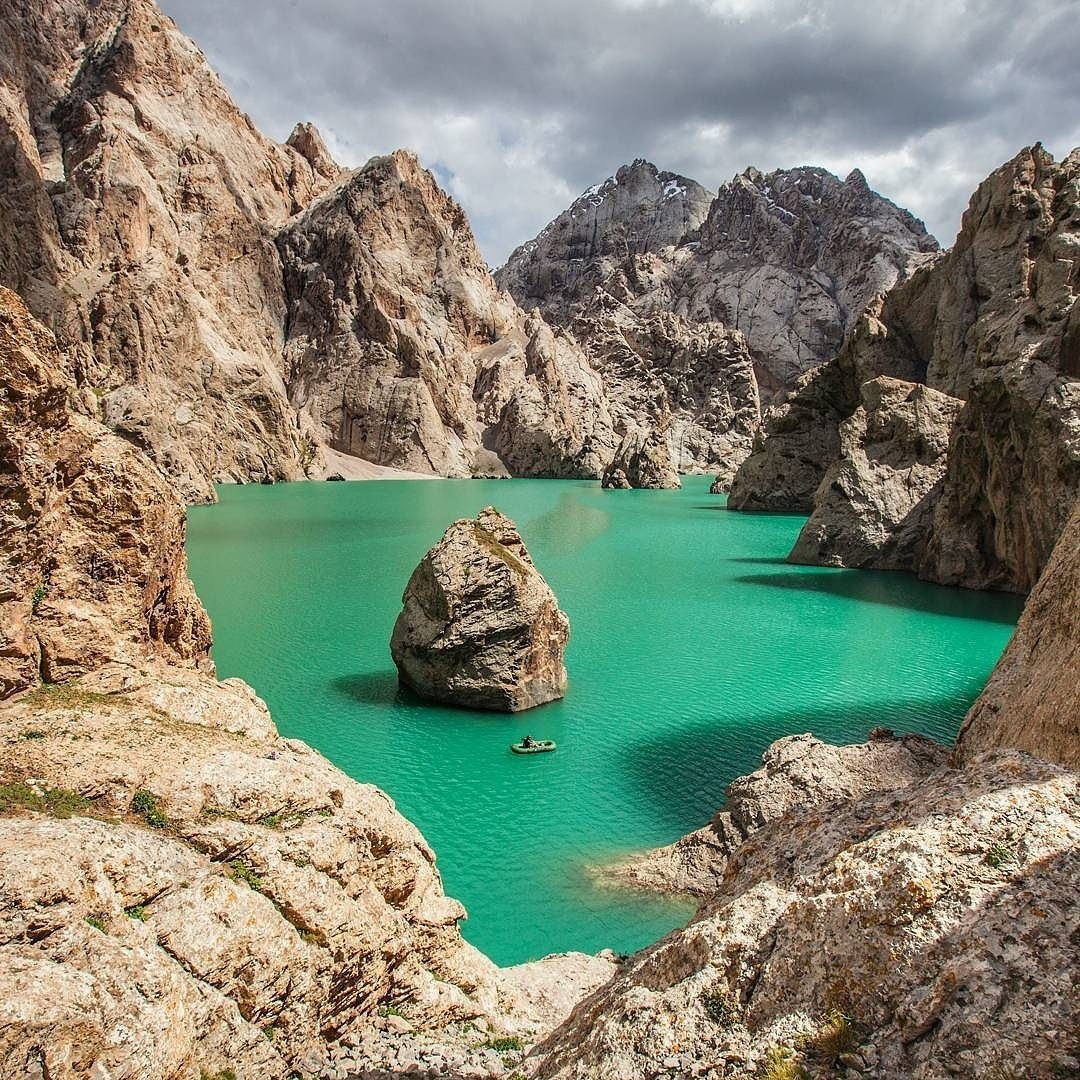 Day 10 Kel-Suu to Bishkek(500km - 6hours)
Start your day with an early morning sunrise photo shooting session at Kel-Suu lake to capture the stunning scenery. After breakfast, we'll make our way back to Bishkek city where you can relax and unwind in a comfortable hotel.
In the evening, indulge in a farewell dinner at Supara, one of the most famous restaurants in Bishkek that offers delicious traditional Kyrgyz cuisine. Savor the flavors and reminisce about the incredible experiences and memories you've made during your tour of Kyrgyzstan.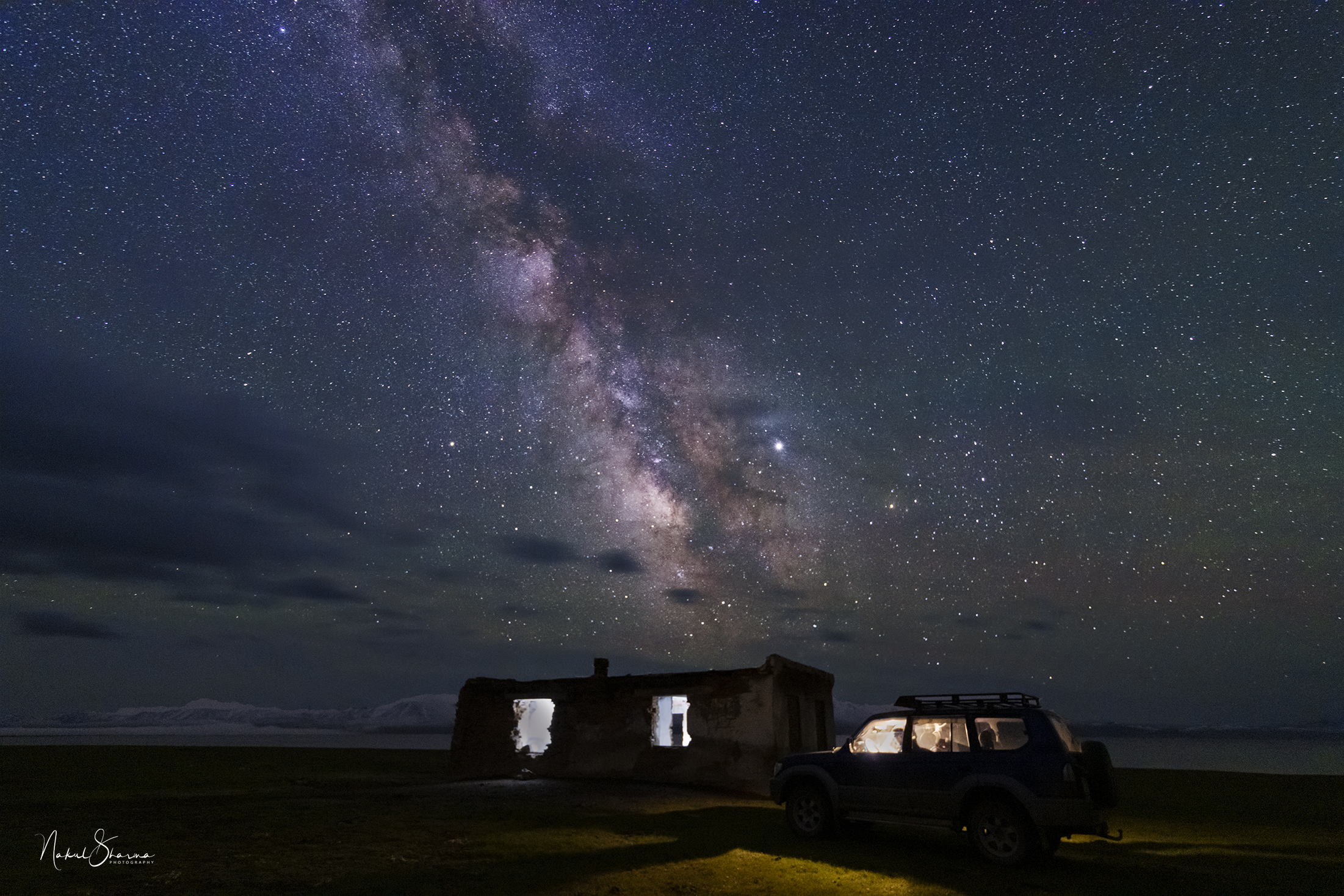 DAY 11- BISHKEK CITY → AIRPORT
Early morning transfer to Manas airport and Departure. See you soon.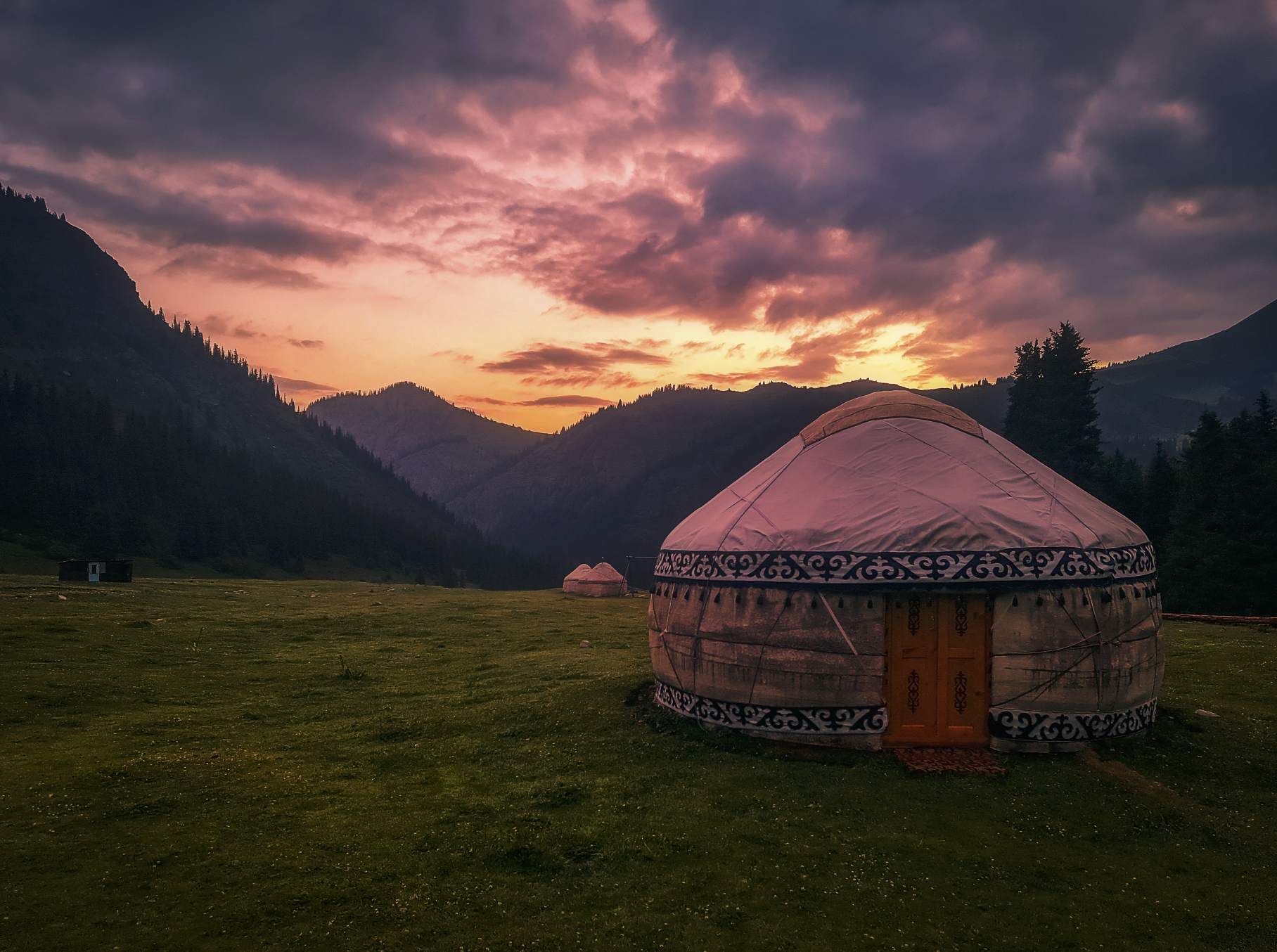 NOTE : Some things are beyond our control e.g. weather etc. and we will not be held liable for changes to locations, itineraries, accommodation or schedules due to bad weather, road closures, breakdowns or other unforeseen circumstances.
Itinerary is subjectable to change due to certain conditions like ( weather, road closure) our company is not responsible for that.
Participants must consult their doctors before the trip for the High altitude problems
Refund Policy:­
30% of the fee will be Charged if you cancel 90-45 days before the tour starts.
50% of the fee will be Charged if you cancel 45-31 days before the tour starts.
70% of the fee will be charged if you cancel 30-15 days or less before the tour starts.
100% of the fee will be charged if you cancel 15 -0 days before the tour starts.
NB: The date on which we receive the written request from you expressing your desire to cancel your participation will be the date that is used to calculate the cancellation charges.
SERVICES INCLUDED
Price includes:
. Twin based accommodation according the program.
. English speaking guide throughout the journey.
. Photography mentor and assistance with (NAKUL SHARMA)
. Meals during tour (10 breakfasts, 10 lunches, 10 dinners), except alcoholic
Drinks.
. Horse Riding in Song Kul lake.
. Transport services according the program.
. Visiting cultural/historical places and entrance fees.
. Cultural events and show according to the program.
. Each day morning and evening shooting as specified in program.
. One water bottle per day per person.
. VISA INVITATION LETTER
Price doesn't include:
. 5% GST
. single supplement
. Activities out of program
. Travel insurance
. Tips (please consider tips to drivers and guide, it's a tradition in Kyrgyzstan and part of their salary too), we suggest 2$ per day per person for the guide and 1$ per day per person for the chauffeur.
. personal expenses
. International air fare & Visa fee
(For Visa you need invitation letter and we arrange that for you from our local partner and all the help and assistance will be given for visa), for Indians you need E-visa only.
MENTOR - Nakul Sharma (TRAVELER and PHOTOGRAPHER)
Nakul Sharma is professional tour leader and photographer based in Delhi.
Brand ambassador of NISI, SUNWAYFOTO, TAMRON & LUMIX MENTOR.
He has been traveling since 2008 and exploring the world through his camera, he has been guiding and escorting groups since 2008, he has been leading groups of Photography in many countries ( like Iceland, Norway, India).
He has been to KYRGYZSTAN himself and explored the whole valley and knows it better. He spent 24 days alone with chauffeur and guide to scout the locations and spots before organising the trip. His Kyrgyzstan work speaks for himself and amount of efforts and he dedication he puts before organising any trip.
His work and Photo is known everywhere and selected by some of the highly reputed organization like National geographic, lonely planet INDIA, IMS (International mountain submit), CBRE YOUNG PHOTOGRAPHER OF THE YEAR, 2016, CAMARENA photographer of the Month, INDIA PHOTOGRAPHY AWARD and ROYAL ENFIELDS etc.. He has done several successful Photography assignments for many brands Like Motorcycleexpeditions, Toyota USA. Etc….