TRIP ESSENTIALS
Tour Type: PHOTO, ADVENTURE, CULTURE
Total Duration: 11 days, 10 nights
Date of Travel: 09-19 July'2021
Maximum Altitude on the Trip: 3 400 meters ASL
Accommodation: hotel, Guesthouses and Yurts.
Transport: 4 X 4 jeeps (3 jeeps) for better comfort & Space.
Seats: 08 People Maximum
Meals – All Included (breakfast + lunch + dinner)
Prices – 1800$ Per person (we calculate in INR on actual exchange rate from day of booking) Single supplement – 750 $ (extra) for whole tour.
Booking amount: 50% in advance (with registration form)
(NOTE- every participant must sign the Consent form & undertaking form before the trip date).
TOUR HIGHLIGHTS
Drive through the amazing landscape covered with snow and high mountains.
Explore the Beautiful lakes of Kyrgyzstan (Issyk-Kul & son kul lake)
Staying in most famous and tradition handmade Yurts camps.
Experience the Private EAGLE HUNTERS SHOW, Exclusive for our group.
Driving on the Real silk route and experience the journey.
Horse riding in Song-kul lake and around.
Exploring the ancient Kyrgyzstan culture throughout the journey.
Visiting the nomadic life of high plateaus and connecting with local people to understand more their culture.
Photographing the Night and star gazing, Astro moment of darkest Kyrgyzstan.
Proper Covid rules and instructions throughout the Journey for safe travel.
Mentor advices and help throughout the journey for better understating the aspects of Photography and visualization.<
NOTE: This tour is open to all (Photographers and NON photographers)
We believe in travel, explore and connecting to other travel enthusiast Travelers. So,
everyone is welcome on board.
KYRGYZSTAN Tour advice: Kyrgyzstan is High altitude & chilling weather condition
during summers also. So, we advise you to take proper winter gears and clothes for this
Tour, temp could drop down at night especially, With Proper gears we could be able to
enjoy & explore the beautiful Ladakh. We send the list of items to carry for this trip
once we get the booking amount from you.
(This tour is not for those who are fragile to high Altitudes and any Asthma problems.)
Terms & conditions:
No refund will be made to any participant if he is unable to complete the tour in case of any health issue or abandoning in the middle. (Extra charges for car or other arrangements.)
In case there is no flight to Kyrgyzstan or delayed and you cancel the trip on the day of the tour starts, there will be only No refund (apply only in-flight cases). Certain things are beyond our control and we are not responsible for that.
If there is trip cancelation from our side (Emergency or Covid issue), 100 % refund will be initiated or adjusted for the future trips with our company.
Itinerary is subject to change in case of any road blockage or bad weather. We try to alternate with the other options on the spot but no money will be refunded for any change due to bad weather or heavy snowfall or any change in itinerary.
If you don't like to share the room with anyone or you have any night problem, we advise you to opt for Single supplement plus the tour cost for more comfortable space and privacy.
If you are not interested in any Photography activity, we advise you to have patience and let other enjoy or click, you can wait in car or in hotel (whatever is possible on the moment).
If you are not interested in Night Photography or star gazing, we advise you to stay back in Hotel. We don't rush for night Photography, if you join then please respect until all we finished all.
Night photography is not guaranteed, It depends on weather and clear sky, no refund is made if weather is not in our favor. We can't control certain things like weather and natural calamities.
Every Participant has to sign the Covid Undertaking form and Consent form before the trip. Once you book the trip, we send both the forms.
TRIP ITINERARY
Bishkek – Cholpon-Ata– Jety-Oguz - Bokonbaevo –kochkor village- Song-Kol lake – Suusamyr valley – Bishkek
Kyrgyzstan is an amazing and unique in its beauty country. This small oasis in the Heart of Central Asia impresses with its huge variety of landscapes and a considerable role in it is played by unique Issyk Kul Lake. Often Kyrgyzstan is named "Asian Switzerland", however virgin mountains and richest nature of Kyrgyzstan are far excel in the cleanness of the beaten European Alps. Culture and historical heritage of Kyrgyz people are also very interesting. Until now, the country retains all the attributes of nomadic life. Only in Kyrgyzstan in summer period you will see yurts- nomadic portable dwellings decorated with felt carpets, meet nomads, who will welcome you and probably invite to their yurt to try traditional Kyrgyz drink kymyz. Optionally, you can ride horses and taste delicious national dishes.
DAY 1
Arrival at airport Manas. Meet and transfer to Bishkek. Depending at landing time city tour and Bishkek tour. Dinner. Accommodation at hotel. Lodge - Hotel in Bishkek (upgraded rooms and hotel)
DAYS 2 - Bishkek – Cholpon- Ata (250kms 3/4hrs)
Morning:Departure from Bishkek to Cholpon-Ata town. But, before we will visit Burana Tower which is best known for archaeological sites.
Afternoon: At first we stop to learn more about the Great Silk Road and visit Burana Tower Historical complex.
Burana Tower (ancient minaret) is located in 12 km far from Tokmok town. The territory where the tower is located was called Balasagyn town. This town had the strategic meaning for Great Silk Road. Here you will see a small museum with exhibits found at excavations, providing more details about this ancient settlement, and become familiar with collection of Balbals, turkic grave marks.
Continue to Issyk Kul Lake. It is a second largest alpine lake in the world after Titicaca located in South America. Its length reaches 182 km, and width is 58 km, maximum depth is up to 668 m. During the summer period the water reaches up to 20-23 Co so we can swim. Arrival at Cholpon Ata town and visit local famous petroglyphs site.
Evening : For the sunset shooting we will go to Grigorevskiy and Semenovsky gorge. They are the largest and most famous gorges on the north coast of Issyk-Kul
DAYS 3 -CHOLPON-ATA TOWN → KARAKOL CITY → KARAKOL VALLEY → KARAKOL CITY
Morning: In the morning we continue our tour and head further along the north shore of Issyk Kul lake. In few hours reach Karakol town.
Experience the best of Karakol. Explore its colorful streets, vibrant markets, and favorite local spots. Understand the town's diverse history, and learn about how it developed from an outpost of the Russian Empire into Central Asia's leading crossroads of cultures and cuisines.
City tour here upon arrival. Visit Memorial Museum of N.M. Przhevalsky a great Russian explorer and researcher of Asian continent, which 12 km far from Karakol. Later Dungan mosque a unique building in a style of the Chinese pagoda which is functioning mosque up to now. Also you will visit Russian Orthodox Holy Trinity Church built of wood without a single nail used. In the miraculous iconostasis of the church there is the famous Tikhvinian icon of Divine Mother, painted in 1897.
Afternoon: This stunning valley lies immediately south of Karakol along the river of the same name that passes through the town. The valley has a ski base, which is visited by local and Russian skiers in winter, while in the summer it is a popular area for trekkers and campers. We will spend all day exploring the area.
Evening: After the sunset shooting drive to Karkol city.
Night At valley in camping is optional Paid Extra ( 40 $) , those who want to stay back in the valley for whole night for star gazing can choose this option. We will arrange bonfire, drinks, dinner, cooking team and camping equipment's ( like tents and mattresses, toilet tent etc..)
Lodging: In hotel or night camp (in tents)
DAYS 4 - KARAKOL CITY → DJETY OGUZ CANYON
Morning: Drive towards Djety Oguz Canyon, one of the many stunning destinations of Kyrgyzstan, arrival and check in our YURT CAMP.
Afternoon: Djety Oguz from Kyrgyz language is translated as Seven Bulls. Unlike Fairy Tale Canyon this picturesque gorge differs in the mountains covered with Tien Shan fir tree. At the beginning of the gorge you will face a famous Broken Heart Rock. Walking up further to panorama you will see those famous Seven Bulls rocks. The tourist guide will tell you the legend about the origin of the gorge name. In Soviets, there was a sanatorium built in the gorge. Many people used to come here for treatment with the help of radon water. Cosmonauts used to come here for rehabilitation, even Yuri Gagarin.
Evening: sunset in the valley and Night photography possibility.
Lodging: Yurt Camp
DAYS 5 - DJETY OGUZ CANYON → SKAZKA CANYON → BOKONBAEVO VILLAGE
Morning: start very early morning to catch the first light in Skazka canyon, we continue our way along the south shore of Issyk Kul lake.
Afternoon: Close to Tamga village we stop to visit and walk around Skazka canyon. The canyon was named because of its bizarre rocky landscape, which for many years has been transformed by wind into amazing sculptures and formations. The canyon looks scenic with the dark blue Issyk Kul Lake on the background.

Most interesting part of our journey! We will witness eagle hunting ( it's a private show exclusively for our group) and Kyrgyz National Horseback Archery at Bokonbaevo village. ( depends on weather conditions)
Drive towards Shatyly, the panoramic view to Issik-Kul lake
Evening: Sunset shooting in Skazka Canyon & Astro night Photography possibility
Lodging: Accommodation in a local comfortable yurt camp.
DAY 6 - BOKONBAEVO VILLAGE → KOCHKOR VILLAGE
Morning: Morning photography at Skazka Canyon. ( optional)
Drive to Kochkor we will learn more about traditional carpet producing procedure – shyrdak show. Local ladies will share with their knowledge and experience of felt and carpet producing.
Afternoon: Continue the way to Kochkor village where tasty lunch is waiting for us. Here we will learn more about traditional carpet producing procedure – shyrdak show. Local ladies will share with their knowledge and experience of felt and carpet producing.
Evening: Sunset photography at Orto-Tokoi reservoir and Night Photography possibility.
Lodging: In hotel or guesthouse
DAY 7 - KOCHKOR VILLAGE → SON-KUL LAKE
Morning: Morning photography in Kochkor. After lovely time in Kochkor village head to Son Kul Lake.
Afternoon: Alpine Son Kul Lake is located on Tien Shan range at the elevation of 3016 m. The territory around Son Kul is a pasture for the cattle driven from Kochkor village, Naryn and Jumgal regions. During the summer Son Kul pasture is considered to be the best Kyrgyz jailoo. The road to the lake goes through the windy mountain passes and vanishes in the sky. As a result Son Kul Lake from Kyrgyz language translates as "Last Lake".

Taking our time to explore the details of this incredibly rural location. The beauty and culture of this remote part of Kyrgyzstan is endless: from stunning landscapes and multi-colored mountains, to yurt camps and encounters with shepherds and locals.
Evening: If we are lucky and the skies are clear, we will be able to spot the milky way, shooting stars and capture one of the most impressive light-pollution-free skies.
Lodging: traditional Yurt Camp
DAY 8 - SONG KUL FULL DAY
Morning: Early wake-up call for sunrise shooting, swimming and breakfast.
Afternoon: The area is very popular for horseback and trekking so we will go horseback riding and trekking. While trekking and horseback riding, you'll likely see a variety of animals, including varieties fish, such as peled and rare carp species, and waterfowl, such as the demoiselle crane, mountain goose, black stork, and black-headed giggle. The lake itself is a natural beauty, and its surface color changes several times a day, becoming either a saturated blue, then purple-blue, or lush green.
Evening: Rest our legs in the common yurt as we enjoy a typical Kyrgyz meal together. And Night Photography milky way and stars.
Lodging: Yurt Camp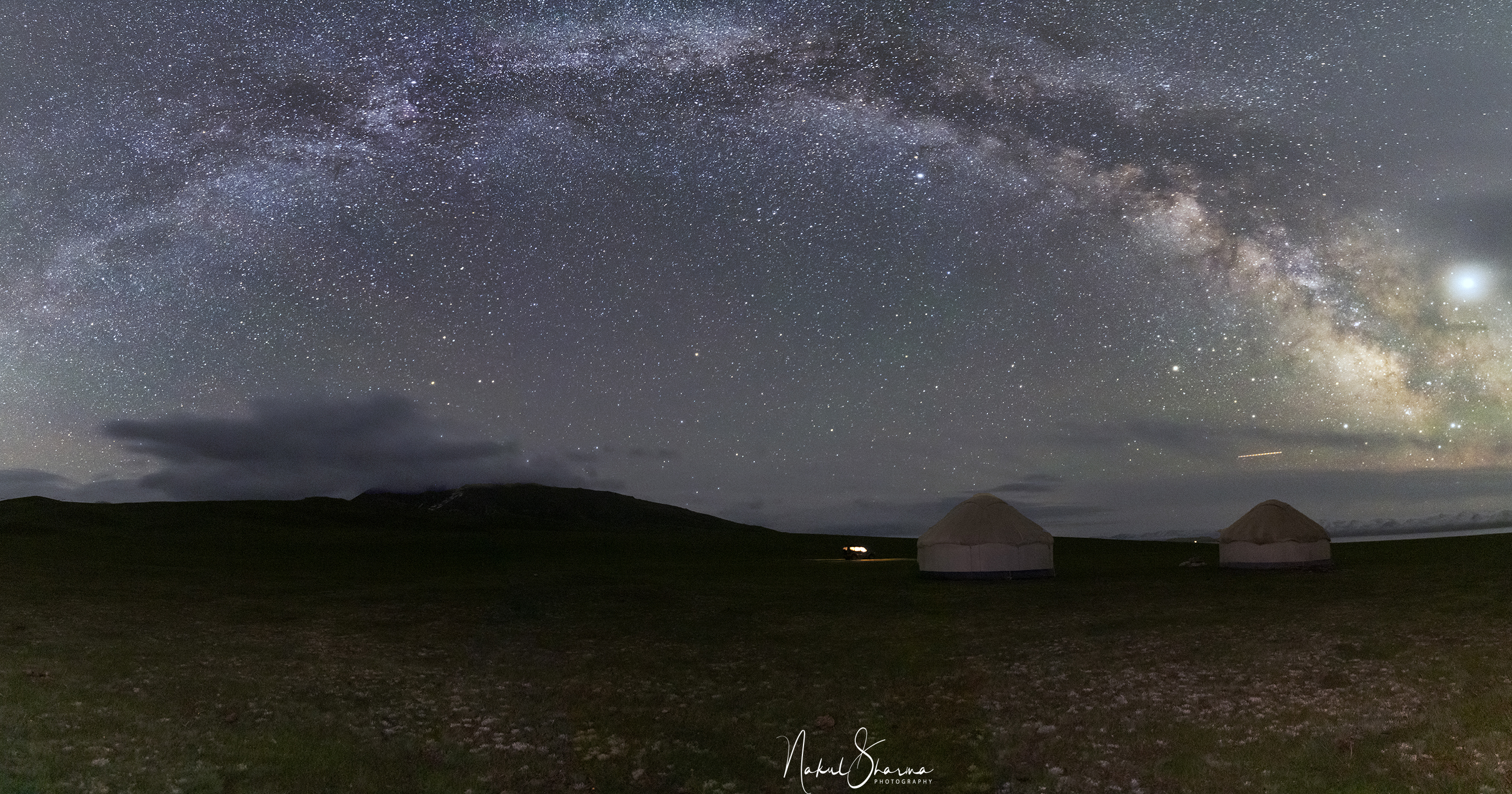 DAY 9 - SONG-KOL LAKE → SUUSAMYR 250 km, 5-6 hours
Morning: After breakfast drive to Suusamyr camp.
Afternoon: Suusamyr valley is the naturaltreasure of Inner Tien Shan Mountains, located between the ridges of Kyrgyz and Talas Ala-Too. The valley is situated at the altitude of 2000-3200 m and has an extension of about 155 km. Suusamyr valley is famous for its pastures and year by year attracts mountain climbers, skiers and tourists who just want to spend time, enjoying the fresh mountain air.
Evening: Overnight at camp bungalows.
Lodging: Yurt camp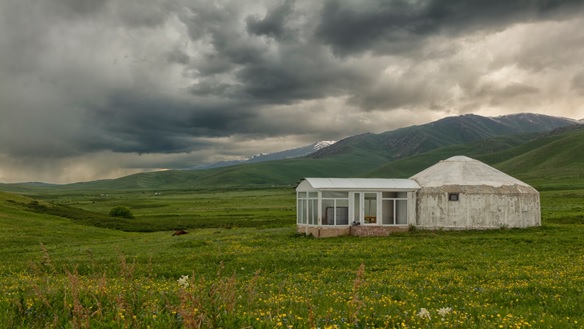 DAY 10 - SUUSAMYR → BISHKEK , 250 km, 4-5 hours
Morning: After breakfast drive back to Bishkek via Too-Ashuu pass.
Afternoon: Upon arrival to Bishkek, check-in to the hotel. Afternoon drive to Dordoi bazaar. It's a street photographers haven, full of colors and characters. It is a great way to finish up the trip.
Evening: Farewell dinner and folklore concert at restaurant.
Lodging: IN HOTEL
DAY 11 - BISHKEK CITY → AIRPORT
Early morning transfer to Manas airport and Departure. See you soon.
NOTE : Some things are beyond our control e.g. weather etc. and we will not be held liable for changes to locations, itineraries, accommodation or schedules due to bad weather, road closures, breakdowns or other unforeseen circumstances.
Itinerary is subjectable to change due to certain conditions like ( weather, road closure) our company is not responsible for that.
Participants must consult their doctors before the trip for the High altitude problems
Refund Policy:¬
• 30% of the fee will be Charged if you cancel 90-45 days before the tour starts.
• 50% of the fee will be Charged if you cancel 45-31 days before the tour starts.
• 70% of the fee will be charged if you cancel 30-15 days or less before the tour
starts. • 100% of the fee will be charged if you cancel 15 -0 days before the tour starts.
(in case of Covid with positive rest report submission), 90% refund will be made if it's requested 10-05 days before the tour starts.)
NB: The date on which we receive the written request from you expressing your desire to cancel your participation will be the date that is used to calculate the cancellation charges.
SERVICES INCLUDED
Price includes:
. Twin based accommodation according the program.
. English speaking guide throughout the journey.
. Photography mentor and assistance with ( NAKUL SHARMA)
. Meals during tour (10 breakfasts, 10 lunches, 10 dinners), except alcoholic
Drinks.
. Horse Riding in Song Kul lake.
. Transport services according the program.
. Visiting cultural/historical places and entrance fees.
. Cultural events and show according to the program.
. Each day morning and evening shooting as specified in program.
. One water bottle per day per person.
Price doesn't include:
. 5% GST
. single supplement
. Activities out of program
. Travel insurance
Tips (please consider tips to drivers and guide, it's a tradition in Kyrgyzstan and part of their salary too), we suggest 2$ per day per person for the guide and 1$ per day per person for the chauffeur
. personal expenses
. International air fare & Visa fee
( For Visa you need invitation letter and we arrange that for you from our local partner and all the help and assistance will be given for visa), for Indians you need E-visa only.